01 is powered by Vocal creators. You support
Patricia Sarkar
by reading, sharing and tipping stories...
more
01 is powered by Vocal.
Vocal is a platform that provides storytelling tools and engaged communities for writers, musicians, filmmakers, podcasters, and other creators to get discovered and fund their creativity.
How does Vocal work?
Creators share their stories on Vocal's communities. In return, creators earn money when they are tipped and when their stories are read.
How do I join Vocal?
Vocal welcomes creators of all shapes and sizes. Join for free and start creating.
To learn more about Vocal, visit our resources.
Show less
Top Rated Wireless and Bluetooth Keyboards
Take a moment to research what features are most important before shopping for wireless and Bluetooth keyboards.
If you are in the market for premium wireless and Bluetooth keyboards, you may hear the name Logitech over and over again. In 2017 and 2018, the brand consistently ranked as the best of the many different options in wireless and Bluetooth keyboards, and this held true whether it was a full size, Windows or Mac, ergonomic keyboard, or portable keyboard. Yet, they are not the only option in the marketplace, and so we are going to look at some of the most highly rated of the current batch of wireless and Bluetooth keyboards, including full sized and number pad options.
Before we do that, though, let's take moment to look at the issues you should consider when choosing your specific wireless and Bluetooth keyboards.
Choosing Function
Did you already know that there are keyboards that are ideal for mobile devices? There are foldable keyboard options, Android and iOS options, and those meant for multiple devices. There are many that provide a full sized keyboard (including number pads), but others that are meant to be a keyboard case for a phone or tablet.
Clearly, that means you need to base your decision making on the actual intentions you have for the keyboard. Will it need to feature Bluetooth connectivity, or is a standard wireless option acceptable? Will you use it for a laptop or desktop and a mobile device or two?
Also consider the overall quality of the wireless and Bluetooth keyboards you are looking into purchasing. What is the build quality? What about the typing experience? For instance, some buyers of wireless and Bluetooth keyboards experience finger fatigue because the keys on their keyboards have a bit of resistance and require actual pressure rather than fingertip pressure. What about battery life? There are switch keyboards that can be turned on/off at will, and some even use rechargeable battery options or AAA batteries. What about the ease of use? Is the keyboard equipped with an LED backlit feature? All of these factors are important and must be taken into consideration when gauging the pros and cons of the options available.
Ranking the Best Wireless and Bluetooth Keyboards in 2018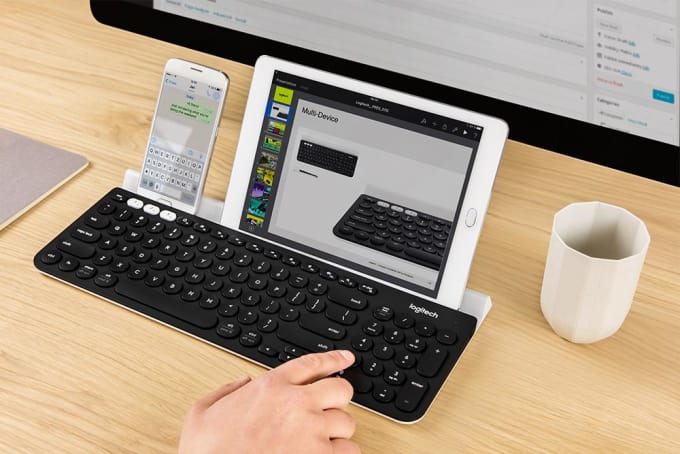 So, which options do we suggest? As we said, it is likely that you have already seen the brand name Logitech repeatedly when mentioning wireless keyboards. 
K380 Multi-Device Bluetooth Keyboard by Logitech
This option works with Windows or Mac and with Android, iPad and iPhone devices, among others. It is a switch keyboard that lets you link to three devices at once and allows the use of a compatible mouse to make life even easier. What this means is simple—it is one of the rare and few wireless and Bluetooth keyboards that links to the phone, a tablet, and a computer, and allows you to utilize all three at once! That alone makes it an iPad keyboard you need right now.

Wireless Keyboard and Mouse by Jelly Comb
This full size keyboard works with desktops and laptops. While not fully compatible with the Mac system, it does feature a numeric keypad and ergonomic and sleek design.
K780 Multi Device Wireless Keyboard by Logitech
The K780 multi device wireless keyboard seems to be quickly catching up and surpassing the K380 in terms of popularity and rave reviews. It is a full keyboard with attached numeric pad and features one of the best typing experiences. It has the FLOW technology that allows you to use it as a traditional keyboard, but also as the keypad for a phone or tablet. It integrates with a FLOW powered mouse (not included) to make working simpler and it even has integrated stands to hold devices for easier use.

Wireless Elite Keyboard by HP
Authentic from HP, the HP Wireless Elite keyboard is super thin and offers 2 different positions and 4 hot keys. It works with most desktops and laptops and features super quiet, low-profile keys.
K810 Wireless Bluetooth Illuminated Multi-Device Keyboard by Logitech
While the Logitech K780 rates consistently high, the firm keeps right on creating more and more appealing options. Some of the latest models to rate highly with those who appreciate flexibility in wireless and Bluetooth keyboards include the Logitech K810 Wireless Bluetooth Illuminated Multi-Device Keyboard for PC, tablets, and smartphones. You can pair this "easy switch" option with just the press of a button and rely on the backlit key to make working (even in the dark) easier than ever. It operates with Windows, iOS, iPhones, iPads, and more. It is super compact and features an excellent typing experience due to the low profile design of the keys. It is rechargeable and remains in communication with any device up to 30 feet away!

Wireless Keyboard and Mouse by iClever
Featuring an Apple-esque design, the iClever keyboard is made with a metal material and luxurious silver finish. It's a compact keyboard with ergonomic standards and whisper quiet keys. It's a pretty useful gadget for your everyday life.
K811 Bluetooth Easy-Switch Keyboard by Logitech
Logitech has also released their Logitech K811 Bluetooth Easy-switch Keyboard for Mac iPad or iPhone. This is one of the few Mac specific wireless and Bluetooth keyboards. It is also an easy switch keyboard that can jump from device to device easily and uses a contrasting and illuminated keyboard design to make the slim and small device easier to use. It has good esthetics and connects quickly to charge. Though a higher price point than many options, it is a good choice for the dedicated Mac users.

Portable Bluetooth Wireless 20-Key Keypad by Satechi
And what if you just want an easier way to enter numeric data? What if your laptop or device has a standard keyboard without the number pad? The Satechi Portable Bluetooth Wireless 20-Key Keypad rates as the top of its kind. It works with phones, tablets, and Windows or OSX devices and is not much larger than a small calculator. It includes a number key lock function, and features all of the functions and keys of the traditional keypad. Small and slender, it travels easily. It's one of those awesome gadgets that should cost more than $30 (but don't).

MK270 Wireless Keyboard & Mouse Combo by Logitech
This bestselling keyboard is known for its long lasting battery life. With Polaroid AA and AAA batteries, the keyboard offers up to two years of use and up to 12 months of mouse use before they need changed! 
Artek HB030B Slim Portable Keyboard
Need a keyboard you can take on the go? The Artek is an ultra thin bluetooth keyboard with USB charging cable. The keyboard works with all 4 major operating systems as well as phones and tablets. Just pop it in your backpack and go!
Conclusion
With that, you have a list of the top wireless or Bluetooth powered keyboards. Though this does not represent the entire marketplace for these devices, it does show the most commonly recommended. As you can see, only a few are dual compatible with the different kinds of operating software or systems. Should you go Android or iOS specific? Should you stick to Mac compatible or Windows only? That really is up to you. What we have seen is that the multiple device and multiple OS options seem to consistently rank the best. With so many people also in need of wireless keyboards for home entertainment systems, and with some of those above working well with options like Apple TV, it makes sense to choose the most flexible choices among those listed above.