01 is powered by Vocal creators. You support
Patty Ramsen
by reading, sharing and tipping stories...
more
01 is powered by Vocal.
Vocal is a platform that provides storytelling tools and engaged communities for writers, musicians, filmmakers, podcasters, and other creators to get discovered and fund their creativity.
How does Vocal work?
Creators share their stories on Vocal's communities. In return, creators earn money when they are tipped and when their stories are read.
How do I join Vocal?
Vocal welcomes creators of all shapes and sizes. Join for free and start creating.
To learn more about Vocal, visit our resources.
Show less
The Best Trash Compactors Will Cut Down Your Garbage Trips
Cut out the rubbish with our top picks for the best trash compactors.
Miss one trash day and the garbage seems to pile up. If you live in a bustling household, then your problem may be even worse. Finding the most reliable and best trash compactors to help ease the burden will go a long way in lightening your weekly trash load. 
A quality trash compactor will be there to buckle down on your garbage, saving space and extra trips to the curb. So, next time you run out just in time to see the garbage truck pulling away, you'll find comfort knowing you've got your compactor to buy you another week or two.
Plus, you'll feel good about the contribution you're making to the environment. Compacting your trash before it goes off to the land fill means less trips to the dump in the first place, which is how I became more eco-friendly. That also means a big savings in fuel, and less air pollution.
Given all these benefits, it's a wonder why everyone doesn't have a trash compactor in their home already. If you're ready to play it smart and find one for your home, then we're here to help. We'll recommend our top home trash compactors that will be sure to do the heavy lifting in longevity and durability. We'll tell you which ones are the most powerful, the most integrated, and the easiest to use. Here are our picks.
15 in. Built-In Trash Compactor by KitchenAid
The KitchenAid 15 inch Built In Trash Compactor is engineered to last. Its 1/3 hp motor means no worrying about being tough enough for your trash, while its "Solid Pack" control offers a 5:1 compaction ratio, (five trash bags compressed into one). Five to one compaction means a significant reduction in waste.
If you're worried about noise, you won't have to stress over the KitchenAid. It features built in "Whisper Quiet Plus" technology.  Whisper Quiet Plus technology consists of a fan/charcoal filter combination, reducing odors and preventing them from permeating the rest of the kitchen. That's quite the air freshener. 
Color options are plenty: stainless steel, black, and white. It also comes in a panel ready option so you can enjoy a fully integrated trash compactor with the rest of your kitchen. A unique aesthetic about the Kitchen Aid is the satin textured handles, which combines muted steel with clean, angular lines. 
Elite 14733 1.4 cu. ft. Stainless Steel Trash Compactor By Kenmore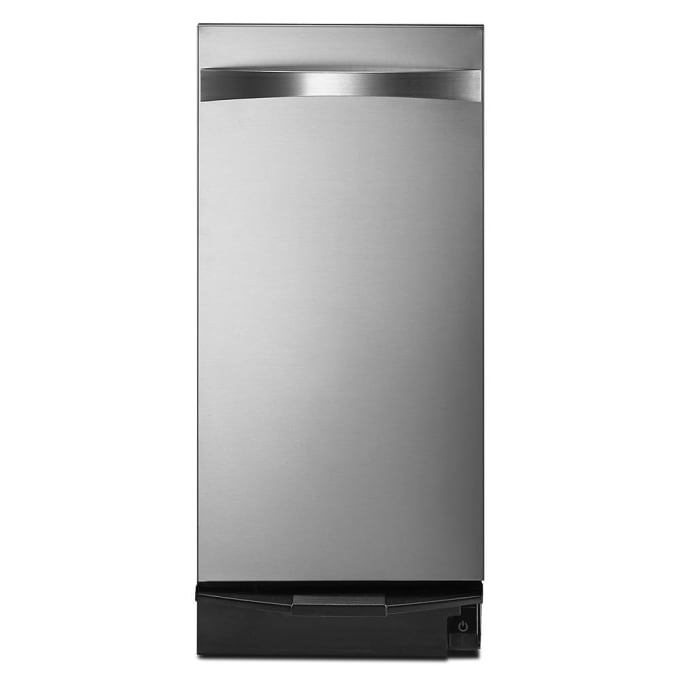 The Kenmore brings its best game with the Elite. Like the Whirlpool, the Kenmore Elite features an integrated design, but it packs a little more compression power with its 5:1 compaction ratio.
The Kenmore Elite comes with three color options: stainless steel, black, and white. It features a slim design that blends right in with your other kitchen appliances. The only thing that is noticeable is the shiny handle.
Other convenient features of the Kenmore Elite include a toe drawer opener, a side release bin, and a welded steel and zinc-coated interior construction.
15 in. Built-In Trash Compactor by Maytag
Designed, engineered, and produced in the U.S.A., the Maytag delivers similar performance as the KitchenAid 15 in. compactor, and it comes with the solid reputation of all Maytag kitchen appliances. The Maytag 15 in., built-in trash compactor has a compaction ratio of 5:1, which reduces trash volume by 80%, and a 1.4 cubic feet capacity. It's a perfect way to reduce your waste!
To prevent possible jams when the door of this trash compactor is opened, the anti jamming function steps into gear, reversing the compression ram. And don't worry about the Maytag stinking up the kitchen. This trash compactor has an odor control system that includes a fan and charcoal filters. 
Maytag offers their 15 in. built-in trash compactor in three colors: black, white, and stainless steel. The design is slim and sleek with a classic angular handle, bottom toe bar drawer opener, side release bin, and tilt-away trash basket.
15 in. Built-In Trash Compactor by Whirlpool
The Whirlpool 15 in. built-in trash compactor features most everything you'd want, with ample amount of compacting force, plus fully integrated controls for a completely seamless design. If your hands are full, don't worry because this Whirlpool provides a touch-toe drawer opener. 
Other ease-of-use features include an anti-jam system in case the door is opened during operation, compatibility with heavy duty trash bags, and bottom levelers and rollers for easy installation. 
Drawbacks of this compactor compared to the KitchenAid and the Maytag include the slightly lower compaction ratio (4:1), and the lack of a tilt-away trash basket. 
Whirlpool has two models of under counter trash compactors, but we especially like this one because of its fully integrated control panel. It's design is modern and inconspicuous. It's subtle and quiet, too. The Whirlpool 15 in. built-in trash compactor is engineered with "Quiet Pack Sound Conditioning" to reduce noise during operation, so it still definitely counts as one of the best trash compactors out there. 
14729 1.4 Cu. Ft. Black Trash Compactor by Kenmore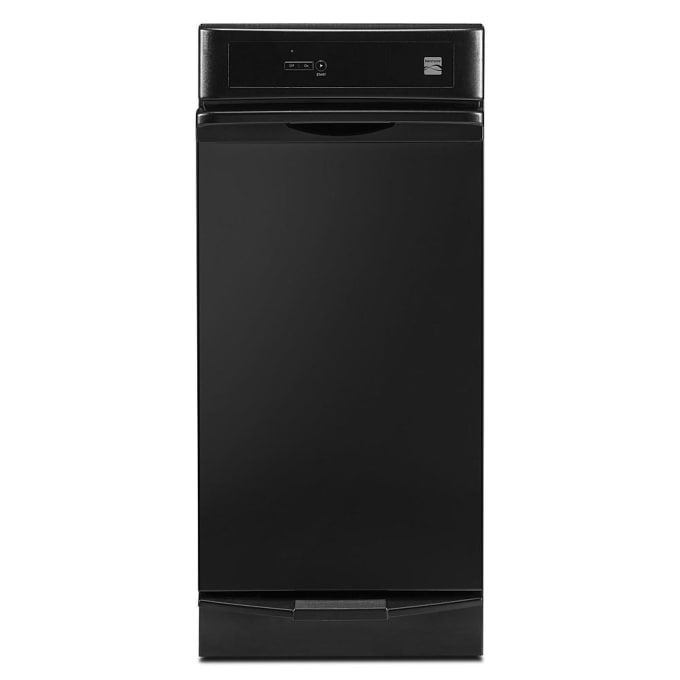 This Kenmore may be a little less sophisticated than the Kenmore 14733, but it's also a very capable compactor in its own right. The Kenmore 14729 has a 1.4 cu. ft. capacity with a 4:1 compaction ratio.
The interior construction features welded steel and zinc coating to reduce vibration and prevent misalignment. The bin is released from the side to ease back potential back issues. 
15 in. Freestanding Trash Compactor by Gladiator
Trash compactors are one of the best products that help reduce waste, but not everyone wants a trash compactor in their kitchen, especially if they're tight on space already. If that seems to be the case in your home, then you may want to look at the Gladiator 15 in. freestanding trash compactor. It's rugged enough to take a bit of a beating in your garage, and it's on caster wheels so it can easily be relocated. 
The Gladiator features all the best qualities you'd look for in a trash compactor of this size, such as a handless drawer opener, a side tip to take bags out easily, a removable key, and an easy to clean hammered granite finish.
The Gladiator lives up to its name in power too. This 1.4 cu, 1/3 hp compactor uses 2,200 lbs of compaction force per square inch to compress trash at a 4 to 1 ratio. And, like the other compactors in its class, the Gladiator comes with an anti-jam feature that automatically reverses operation if the door is opened. 
15XEBL 15 in. Programmable Trash Compactor by Broan
The most powerful of all the best trash compactors featured in this review, and the most environmentally friendly too, is the Broan 15XEBL 15 in. programmable trash compactor. This 1.55 cubic feet compactor crushes trash with a whopping 3/4 horsepower. It's capable of applying a constant 3,000 lbs of force, which translates into a heavy duty 6:1 compaction ratio. The trash bucket is heavy duty too, holding 30 pounds of garbage at any given time. 
Not only is the Broan strong, it's smart too. Compaction cycles are programmable for automatic operation, and it has a five minute memory back-up in case the power goes out in the middle of a cycle. And, it's smart enough to tell you when a little freshening up is in order. The Broan 15XEBL is built with a "Microban" antimicrobial protective coating insulated door and an odor control system with indicator to let you know when it's time to change the odor disk.
Ease-of-use is another key feature of the Broan 15XEBL. Its reversible door opens like a refrigerator, allowing complete access to the trash compartment. The actual bucket rests on sliding ball bearings so that you can pull it out to remove the bag with ease. 
15" Built-In Trash Compactor - Stainless Steel by GE
Slim is what this trash compactor is all about. The GE 1.4 cu. ft. trash compactor is incredibly sleek and capable too. It features 1/3 hp, an anti-jam capability, a drawer foot pedal, removable key, and built in controls. 
The GE compacts with 2300 pounds of force in just 30 seconds. It fits snugly in between cabinetry so that it blends right in with the rest of the kitchen. There's no handle on the GE, but the foot pedal operates the pull out drawer. 
E15TC75HPS Professional Series 15" Trash Compactor by Electrolux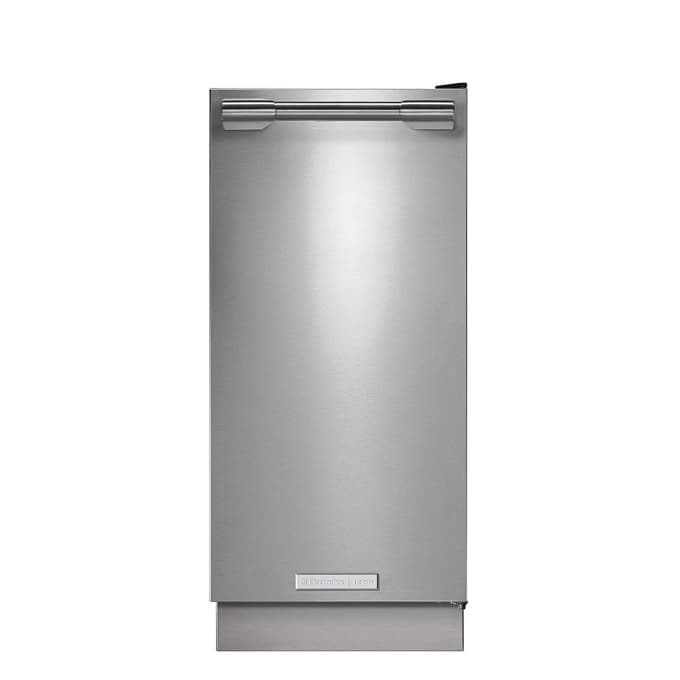 The slim Electrolux 15" Trash Compactor has a 1.55 cubic foot capacity with 3/4 HP. It can apply 3,000 pounds of compaction pressure and hold up to six large trash bags at once.
The Electrolux is very quiet thanks to its "Luxury-Quiet" sound package. It's clean, thanks to a deodorizing disk that protects your kitchen from odor for up to six months at a time. And, it's easy to use because of its "Smooth-Glide" ball bearing roll out system.
One of the Electrolux's best features is its three year warranty on parts and one year warranty on service. 
15 in. Convertible Trash Compactor by Whirlpool
We included this Whirlpool Trash Compacter for its versatility. This is a great convertible trash compactor that can easily be rolled on its casters so that it can be stored in the kitchen, under the counter, in the garage, or the pantry.
And, this Whirlpool is well built and convenient too. It features a removable key, 4:1 compression ratio, anti-jam feature, bag retainer clubs, touch-toe drawer opener, quiet pack sound, and tilt away basket. What else could you ask for in the best trash compactors?