01 is powered by Vocal creators. You support
Ossiana Tepfenhart
by reading, sharing and tipping stories...
more
01 is powered by Vocal.
Vocal is a platform that provides storytelling tools and engaged communities for writers, musicians, filmmakers, podcasters, and other creators to get discovered and fund their creativity.
How does Vocal work?
Creators share their stories on Vocal's communities. In return, creators earn money when they are tipped and when their stories are read.
How do I join Vocal?
Vocal welcomes creators of all shapes and sizes. Join for free and start creating.
To learn more about Vocal, visit our resources.
Show less
How Orbit's B-hyve Keeps Your Gardens & Lawn Perfect Even When You're Away
A crisp lawn, even when you don't water it? Oh my, yes! You're gonna love using your B-hyve to make your lawn behave.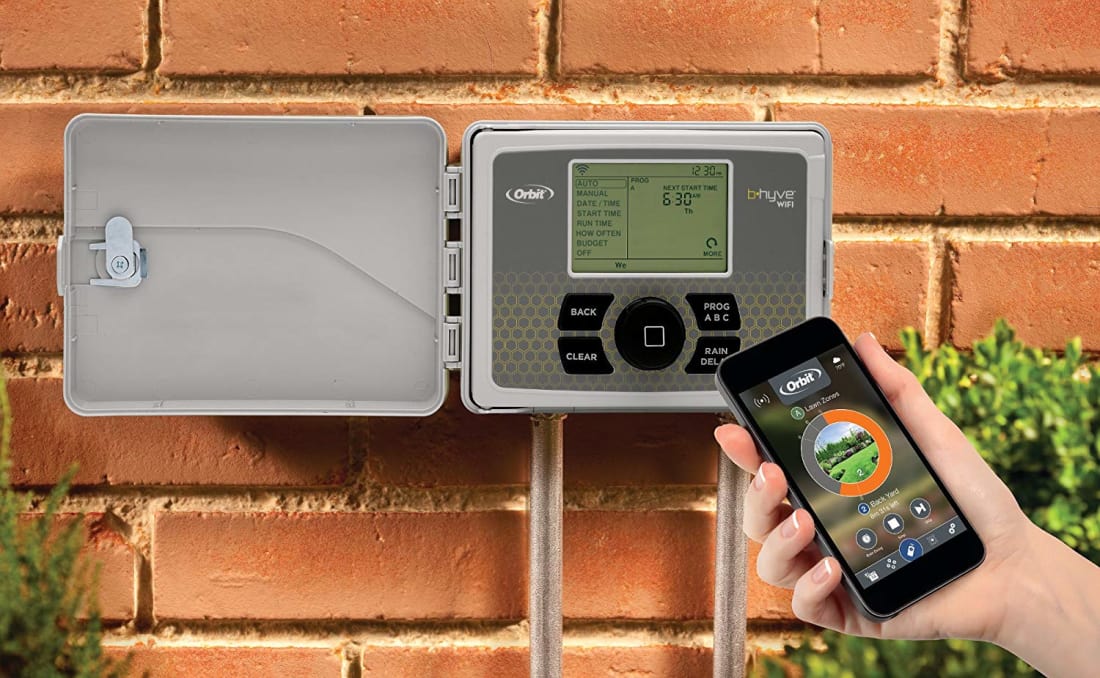 Back when I was younger, there was always a telltale sign that people in my neighborhood had gone on vacation. If they didn't have a lawn care company watching over their yard, we would notice brown patches dot their yard. Depending on how long they were away, the entire lawn could die out.
To a point, this phenomenon is still pretty common among middle class suburbs—though it really doesn't have to be. Smart home technology has started to extend to lawn care, too.
Orbit is a tech company that has made it possible to keep your lawn alive even when you can't afford a care company while you're away from home. They invented the B-hyve, a smart watering system that does all the work for you, taking weather into account the whole time.
The B-hyve is one of the world's first smart sprinkler systems.
Ever notice how sprinkler systems can drown soil or require you to turn them on in order for them to work? Though standard sprinklers still make life a lot easier compared to a regular hose, they still tend to have their fair share of problems.
The B-hyve is a product that's designed to take the trouble out of setting a sprinkler system to work without you being there. Like many other smart home devices, the B-hyve is designed to work with Alexa and other AI devices.
This means you don't have to be home to turn on your sprinkler; all you need to do is access to the app.
B-hyve is designed for travelers in mind.
It's no secret that weather can affect your lawn and impact how much water it needs. Too much rain, and an automated system will cause your grass to drown. Too little will turn it brown.
When you're away from home, it can be difficult to keep abreast of all the little weather trends that effect your lawn and garden. B-hyve gives people the chance to let the app take note of local weather patterns and determine the best watering schedule for you.
The B-hyve smart watering app literally turns lawn care into a science.
Your grass will need different levels of moisture depending on a wide range of different factors. B-hyve can measure soil moisture levels, soil type, quality, and more—all to get the best possible levels of water for your lawn.
Better still, the B-hyve is also designed to help you save money on water without causing harm to your lawn. So, if you live in a state where water is rationed, B-hyve will be a great investment for your home.
If you're not a "set it and forget it" type, B-hyve lets you manually schedule your watering moments.
Some gardens require very specific watering schedules in order to bloom, and B-hyve gets that! If you want to choose your own watering schedule, you can do it through B-hyve's controls or through the B-hyve app. 
You can schedule water sessions weeks ahead, chance current sessions to suit your garden's needs, and also switch over to an app-set schedule whenever you want. How you use B-hyve is totally up to you.
Its rugged design will last and last.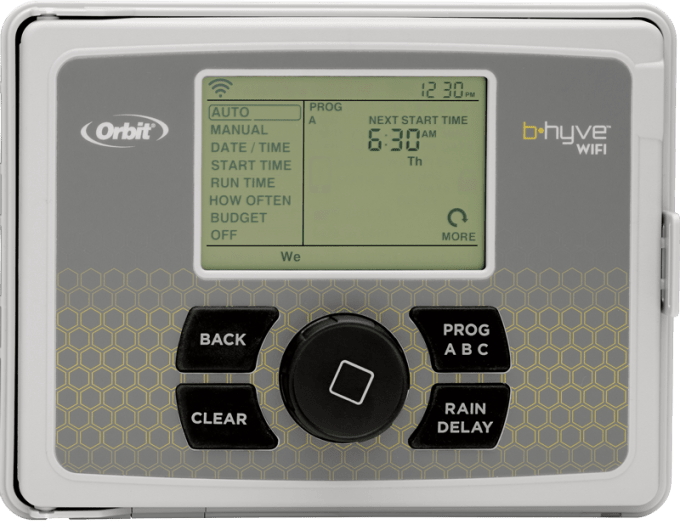 B-hyve is designed to be as rugged as possible, and that includes the B-hyve controller's indoor/outdoor case. Water, rust, and other damage that may be inflicted due to bad weather will not harm your sprinkler system, or keep it from doing its job. 
You can install your B-hyve controller inside or outside, depending on your home's layout. If you feel cozy with it inside, keep it inside. If you're more of an outdoors person, the B-hyve will still suit your needs.
You can even water each section of your lawn independently.
Every part of your lawn will have a different set of needs, especially when it comes to areas that have a lot of trees. B-hyve's app acknowledges the different needs each section of your garden will have, and lets you schedule every watering session differently.
You don't have to be a tech guru to make the B-hyve work its magic for each individual section of your lawn. The app itself is easy to navigate, and even easier to work with.
Install B-hyve yourself, or have someone do it for you.
B-hyve is one of the only smart sprinkler systems that gives you the chance to flex your DIY muscle. It's designed to be a simple installation, comes with instructions, and takes a short time to do. Of course, there's also installers who can help you if you don't feel like getting your hands dirty.
If you haven't noticed, the whole concept behind B-hyve is to make your lawn easier to care for and easier to control. That includes letting you have control over your own installation.
Conserving water and keeping your lawn fresh just got a lot easier.
It used to be that keeping a green lawn while you're away and trying to conserve water were mutually exclusive. B-hyve is changing that for the better, and that makes it easier than ever to make your home a greener place.