Creative Ways We Are Using Augmented Reality in Marketing and Advertising
By tailoring markets for smartphone-based exchanges, shifting retail inventories into digital databases, and rendering products with 3D visuals, augmented reality in marketing and advertising is a reimagining of commerce.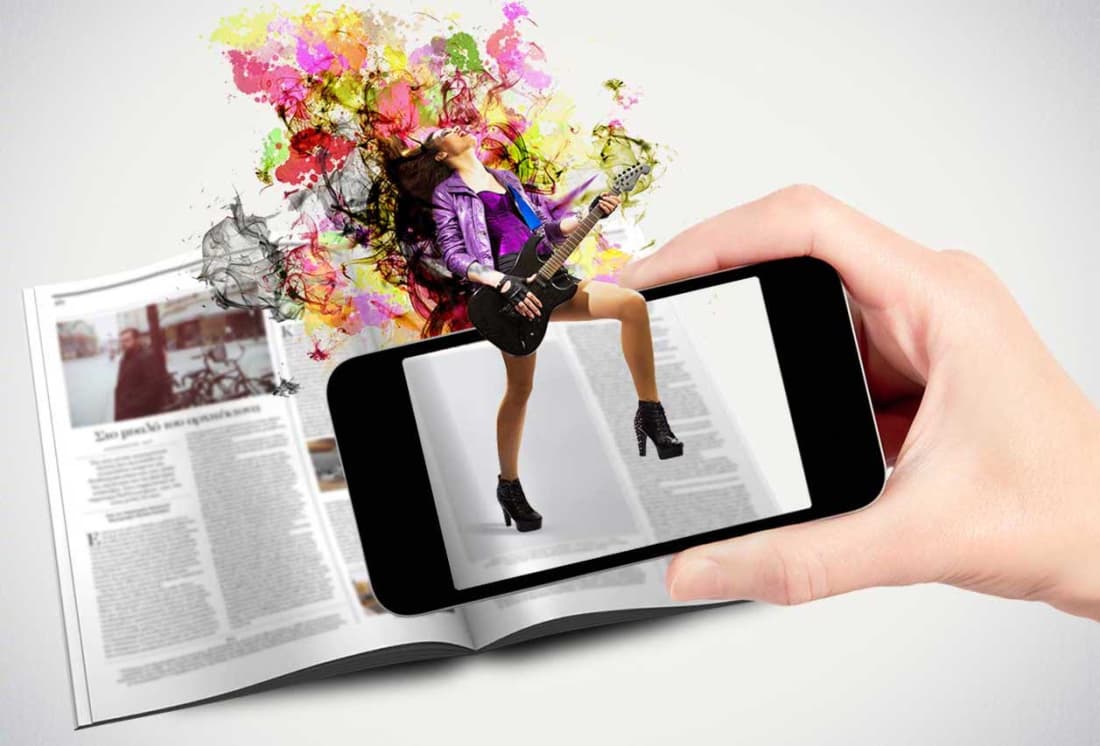 Virtual reality is a truly revolutionizing concept, but who wants to be cooped up in a bulky and uncomfortable headpiece that tends to boast relatively sub-par graphics? Well, some of us do of course. It's one of many unfortunate symptoms in consistent unveiling of new and more modern technologies, almost at an alarming rate. Similarly, as the world plunges headfirst into smartphone screens everywhere, the search for tailored and customizable application experiences has ignited a newfound inquiry into the functionality of augmented reality in marketing and advertising. Hold on there just a second, you say; what is augmented reality? Differentiated by the digitally constructed real world escapes in virtual reality, AR apps instead bring that same digital world straight to your fingertips. Similarly, augmented reality in marketing and advertising essentially intends to achieve this very same feat, yet with real world financial markets and consumer products.
Anywhere from fitness and productivity, to entertainment and commerce, the AR market is ever-growing, fusing a necessitation in tech advancement with a keen eye for creative marketing ideas. The potential in commercial AR applications are astounding and might well eventually populate the real world with digitalized products, virtual showrooms, and self-deciding methods in interior design. Citi GPS, an analytical unit of Citi investment bank, reported that AR/VR technologies are enhancing consumerism by expanding into a trillion-dollar market that, according to Citi analysts, will be potentially worth $692 billion in revenue by 2025. Remarkable as that may be, given these technologies are no more than five years in the making, let's not get too ahead of ourselves just yet. The tech itself is still young, at best, and needs some time to grow into its own image. General enhancements, functionality modifications, and all-too familiar bug fixes continue to present unending possibilities for the future, but marketing and advertising gurus now have begun reaping the benefits in blending digital realities with real world retail markets.
Pokemon GO
Not more than a year ago, many of us saw the rapid growth and expansion of Nintendo's Pokémon world after being rendered into augmented reality. Pokémon GO, which sadly lost the ever-expansive fervor not six months after its release, literally became a cultural phenomena that brought fans and newcomers to the brink of catching them all, only it reverted into something of an icon for augmented reality in marketing and advertising. On one hand, the app was highly sophisticated, allowing for a constant playability, anywhere at any given time; on the other, discovered shortly thereafter its release, an increased in fatalities, whether simultaneously using the app while driving to a rise in injurious outdoor accidents and even kidnappings, augmented reality in marketing and advertising seemingly worked both in favor and against the once highly popular application. At one blistering moment in time you couldn't go anywhere without seeing signs or references to Pokemon GO, right up until it vanished from the public's eye thanks to these considerable setbacks in the game's overall concept of blindly free roaming the real world (it is, after all, a dangerous world out there, even when side by side with your trusty Pikachu).
By revolutionizing mobile gaming through the application of augmented reality (though not being the first of it's kind still being one of the most influential of initial AR applications), Pokemon GO highlighted the value of a dualistic community in both the real world and digital-based reality. The game invited players to an experience of great outdoors unlike any other, by way of seamlessly battling friends and foes alike at designated "gyms" all across the planet, scouring the real world to capture more and more unique Pokemon, and hatching eggs that tracked steps anywhere from three to ten miles. It certainly changed the way mobile gaming and communal outdoor activities could be experienced, but not necessarily in a good way. The application eventually fell out of the spotlight, due to these concerns in growing abductions of wandering young children, in addition to fatal injuries procuring from player's attentions being glued to the smartphone screen, rather than what's front of them.
Snapchat
Snapchat, alone, has steadily become a pioneer in AR functionalities for social media and photographic applications. Their conceptual 3D filter backdrops and stickers bled newfound forms of imagination and magic into user's selfies and videos. At first, Snapchat only permitted maybe like 10-12 face filters, some of which needed to be bought before use, but the concept soon evolved into a pop cultural phenomena, wherein varieties of enhanced photo filters and 3D AR backgrounds made capturing snapshots a self-tailored imaginative experience. It far exceeded expectations (I mean, AR photo filters implemented on a photographic social media messaging platform? I'd laugh that concept right out the door if it were me).
In 2018, not only are beloved Snapchat users all across the globe pushing the bounds for sophisticating these photographic components, but so too is augmented reality in marketing and advertising. By way of idealizing the concept of virtual tours, similar to how newer VR platforms are allowing for the visitation of museum exhibits and art galleries from the comfort of your home, AR is likewise putting its own augmented spin on the virtual tour concept. Snapchat isn't the only one, either...
AMC Theaters
This AR app has a kind of easter egg for enhancing the moviegoing experiences provided by AMC Cinemas. Packed with all the necessary features you'd expect from a typical cinema based application, like buying tickets, checking movie times, and simply browsing movies from the past, but with an added AR twist: movie trailers and their info all expressed through an enhanced application that need only be pointed at a movie poster or even an ad in a magazine.
Augmented reality in advertising and marketing never got so simple, and yet expressively fun. You can walk through any AMC theater with your smartphone in hand, picking up on all the secrets each movie posters have to hide. It's an ingenious step for augmented reality and movie cinemas, and I wouldn't be surprised in movies themselves soon begin to employ AR for impeccable 3D rendered features. We still have a long time before that will happen, though.
Modiface Live
The idea of digitally rendering cosmetic products over one's face was first brought into the fold by Sephora, but hardly showed any semblance of being a perfecting AR technology. Instead, ModiFace Live has blossomed out of this rather lacking category of augmented reality in marketing and advertising. By simply using your cell phone camera, pretty much identical to Snapchat's face filter AR concept, ModiFace lets you try brand name cosmetic and makeup products to ensure positive overall effects.
Instead of wasting money and time at department stores, utilize the ingenuity behind ModiFace's sophisticated 3D AR imaging, which precisely and completely maps the contours of one's face to engineer photorealistic mirrors that target anything from differentiated tone colorations, to that of even extended-time skin care products. This wonderful app is changing the way female cosmetics can be both tested and later bought, eliminating the need for outlets and retailers in the wake of advanced simulating AR experiences all on one's handheld mobile device.
CARROT Weather
Among the best AR apps using iOS 11's ARKit, CARROT Weather is the calm before the storm in devising a simple, yet highly integrated experience in forecast accuracy, maintaining alerts, and customizable personality. As an AR application, CARROT doesn't simply give you the weather of the day, it's got a certain level of spunk and wit unlike any app you've ever seen. While it may not drastically effect marketing and advertising as more financial and banking based AR apps do, it's enlisted its own personal character into the mix, simultaneously simplifying forecast alerts and adding its own AR ingredient to the mix.

Like CARROT Weather, Mac Reality intends to broaden this niche market in AR app forecasting. Both weather alert systems are trying to engineer more personalized levels of customization to strengthen the possibilities behind augmented reality in marketing and advertising. CARROT, both highly intelligent and extremely versatile, is exemplified by a personal comedic character that almost brings your forecast and weather updates to life, as if in possession of a real live human conscious embodied within technology, something akin to a Black Mirror episode.
Simmons SIMulator
Used solely for in-store purchasing, Simmons SIMulator app works as a buyer's guide in the understanding of high-ticket market of orthopedic mattresses. The SIMulator, devised under their goal in delivering concise and steady streams of informational selling points, is used by aiming your phone at desired mattresses in any physical Simmons store and retrieves a fully detailed list of features that differentiates across products. For example, the Comforpedic and Beautyrest mattresses are two of the company's most popular items and are oftentimes confused for their extreme similarities, but the SIMulator takes away a lot of the customer guess work and confusion that runs rampant in the bedding marketplace.
Their AR application doesn't simply spew out a few interesting qualities and simple points of data; it delves into deeper perspectives of each product with interactive animations that vary across bedding options. SIMulator expresses this concept of augmented reality in marketing and advertising by targeting how buyers understand their products in more a conducive and comfortable setting. Simmons has experienced an increase in sales since the application's launch, heralding an all new brand of in-store AR application possibilities.
Augment
In addition to streamlining many popular AR themes into one all-inclusive application and denoting an unyielding productivity and functionality in the face of enhancing AR technologies, Augment doesn't simply examine how augmented reality in marketing and advertising can restructure the market. Augment personifies this claim by enabling marketing strategies through a variety of AR functions, one such being print catalogs, which give consumers easier ways of testing products before a transaction is set in stone.
It's among the most sophisticated tools on the App store, and one of the best apps to upgrade your phone. Augment allows clients to utilize an overlaid 3D model or video after scanning their personally customized "tracker," or logo, which can either be printed out or directly portrayed on-screen. The app has already benefitted certain private companies and public entities, one of which being Samsung. It's our golden goose: Augment is one of the most versatile AR apps that's recreating the way furniture and other in-home products are "tested out" before being sold and intends to expand on these efforts in more company-shared projects.
Universal Orlando
One of the entertainment world's leading creative agencies and an iconic Hollywood entity, Universal Studios is utilizing augmented reality in marketing and advertising by setting up various larger than life AR displays all across their Orlando Resort location. Amassing close to $2 billion annually, the company has been known for the utilization of AR and other forms of advanced technology in the marketing of ongoing and future movie franchises, such as Jurassic World 2 and Jaws.
Coined an Augmented Reality Experience, Orlando's augmented reality pushes the bounds of its technologies and completely engages guests with various terrifying and hilarious cutting-edge attractions. Their Jurassic World 2 display, which randomly triggers when visitors walk across the iconic Hollywood star, is a surrealistic AR experience that showcases a variety of dinosaurs through multiple overhanging screens. When it comes to marketing their image, Orlando Studios never seems to miss when delivering extravagant technological advancements and lifelike digital recreations like this colossal display in AR marketing.
Homestyler Interior Design
It may not be as widely popular as in alternative forms of augmented reality, but independently decorating one's home is a surefire way to reinvent marketing in the coming future. Homestyler is this very concept, packed with AR features that turn your phone into a sophisticated interior design board. Through the world of your phone screen, you'll experience the likes of augmented reality in marketing and advertising when given the opportunity to buy design products, ornate furnitures, and painting supplies as you digitally buff up your home interior
Easyhome's AR app eliminates the guesswork and hassle of physically remodeling your home by giving you high quality 3D representations to put and place all on your phone, then overlaid to fit your real world interior. Not to mention the fact that Homestyler's long list of available products includes the likes of rugs, paintings, mirrors, and many more home furniture products, all of which can be rendered into 3D representations and saved across boards for later inspection, there's no wonder they've become somewhat of a leading pioneer in the future of artistic AR developments.
USPS AR
Product packing in one fluid AR application? You'd never think to see USPS among augmented reality in marketing and advertising, but the company is known for being heavily tech savvy and intends on reinventing the very idea of postal systems using augmented realty technology. It may sound like a stretch for a little downloadable iPhone app, but the 2014 launched AR technology features a video of dancing penguins and Christmas lights, ending with the option to buy various USPS specific products on a digitally augmented layout.

Users could also scan boxes, track packages, plus set pick up and drop off times at various locations. It doesn't seem like much in the way of broadening AR technology itself, but the application pursues to market USPS's image, bringing product's directly to the customer's hands and allowing for smoother, swifter deliveries at the push of a button.
Layar
Let's face it: the creation and implementation of organic content for digital reality applications is no easy task. Layar makes it look easy and simple, showcasing brilliant features that literally underscore the nature of this evolving tech. One thing though, Layar is relatively new, which means that the quality of performance and general user base is nothing like similar applications, despite the fact that there are very few AR apps with features and functions quite like this one. Branding itself in the likeness of the actual marketplace itself, rather than subverting to practical advertising methods and marketing schemes, Layar pushes the envelope in designing a sophisticated digital retailer for the purposes of broadening augmented reality.
Think of Layar as a kind of online 3D magazine, or buyer's guide, utilizing the concept of augmented reality in marketing and advertising to promote a pseudo-Amazon AR application. It may not be the best in quality or functionality, but Layar is still attempting to shake these foundations of the market in the introduction of purchasable products from listings over a variety of categories and powered by sophisticated AR technology. Shop for every necessity on Layar's endless product listing of consumer goods, or browse over the multi-functional feature of Geo Layers, which will find the nearest desired locals, from outlet stores, restaurants, ATMs, and more. It's like a fusion of Amazon and Waze under one powerful AR that boasts an incredible potential in the proceeding enhancements slated for the future.