Coolest Kickstarter Gadgets You Can Buy Right Now on Amazon
Kickstarter gadgets get really innovative and really imaginative — and sometimes become real. Here are the coolest Kickstarter gadgets you can buy right now on Amazon.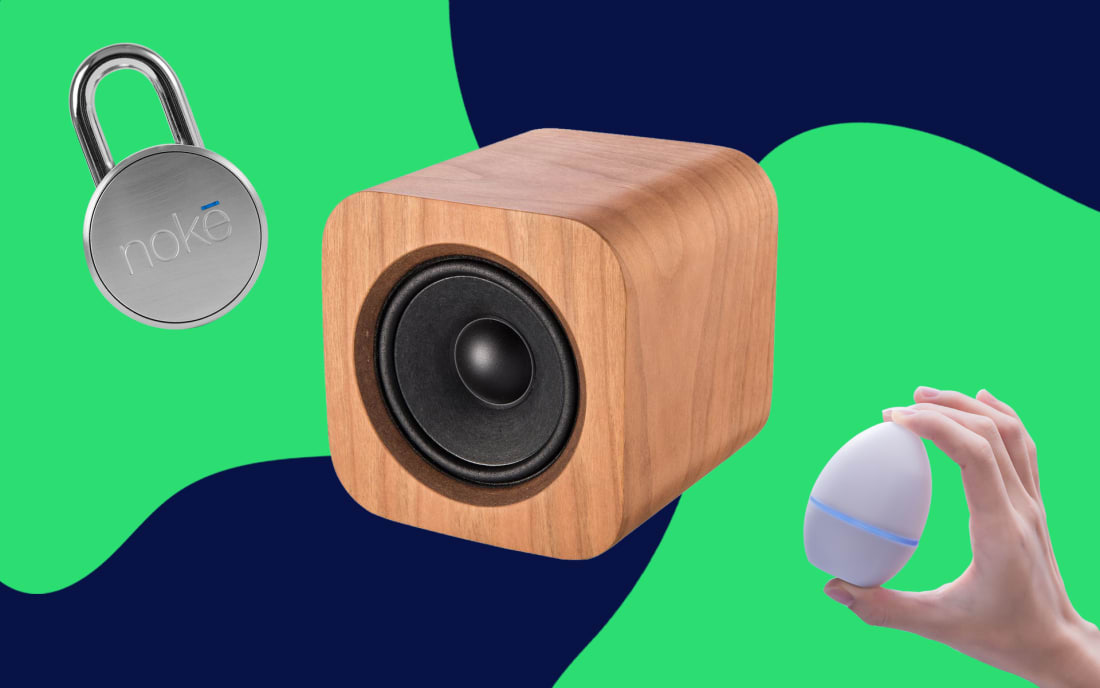 Kickstarter is a crowdfunding platform that is all about bringing great products and creative projects to life. Many of these projects were amazing comic book series, movies, and artistic creations that have wowed people.
However, as artsy a platform as Kickstarter is, it's also helped give birth to a number of quality gadgets. Here are some of the coolest Kickstarter gadgets you can buy right now on Amazon.
Bragi - The Dash Truly Wireless Smart Earphones
Yes, we've all seen wireless earphones — but not like these. Bragi's new invention allows you to stream your music directly to your earphones using the Dash, or the free Bragi app. If you're a mp3 player fan, then you can also directly download up to four GB of music to the headphones themselves.
They can recharge on the go, can be worn underwater, and also are just really comfortable. It also can take wireless calls and offer biometric tracking via its app. All the functionality and the sci-fi look makes these headphones one of the coolest Kickstarter gadgets you can buy right now on Amazon.
Beam
Beam is unlike anything else you've ever seen on the market. This unusual "light bulb" product isn't actually a light bulb; it's a smart projected that can plug into any standard light bulb socket and play your favorite movies, clips, and shows.
You can control Beam through any app, including Gmail, Netflix, and even Spotify. The Beam reacts to your apps and is fully connectable to wi-fi. Streaming has never looked so chic, nor has it ever been so easy.
Stower Candle Charger
Stower's Candle Charger is one of the most unusual ideas on this list — and that's saying something. This charger uses the heat generated from a lit fuel canister to charge your electronic devices and has a small pot up top to help you make emergency purified water.
Though this device is meant for emergencies, both campers and preppers will find it to be pretty useful, and very cool.
The SAM Labs Learn Kit
SAM Labs is one of the most innovative toy companies for kids aged 7 to 14, and their new Learn Kit series allows kids to learn important STEM skills while taking selfies, building an Internet-linked robot, and having fun doing open ended play.
Kids have said it's one of the coolest toys they've ever seen, and teachers agree. If you are worried about your kid's creativity fading when they learn about STEM, then investing in the Learn Kit may be the solution you've been looking for.
Sansaire Sous Vide Immersion Circulator
Most people, at one point or another, have wanted to have the cooking skill of a master chef. Thanks to tech start-up Sansaire, you can. This sous vide tool works the pots and pans you already have, tells you the inner temperature of your food, and gives you total control over your food.
Along with being one of the coolest Kickstarter gadgets you can buy right now on Amazon, the Sansaire also has the honor of being the most successful culinary Kickstarter project in history. As of right now, many top restaurants use this tool — and you can, too.
LaMetric Time Wi-Fi Clock
Perhaps one of the most surprising wins on the Kickstarter market was the LaMetric Time Wi-Fi Clock. Then again, it is one of the coolest Kickstarter gadgets you can buy right now on Amazon— so it shouldn't be *too* surprising.
What's so neat about this smart clock is that it links up with your wi-fi system and allows you to listen to internet radio whenever you want, and also customize it to make it "your clock."
This smart home device offers precise time, a wide variety of different clock faces, and also allows you to get notifications from Alexa, ITTT, and other smart home devices.
The Noke Padlock
While the Noke may seem like a simple padlock, it's quite unlike anything you've ever seen before. This padlock is a smart padlock that requires no key and no fiddling around with a dial to work. In order for it to open, you'll need to have the right app — and yes, that app offers tracking of the padlock as well.
Noke owners can share privileges of the padlock and also offers a "tap code" just in case your phone can't be accessed at the time. Lockers have never been so secure.
ODiN: The World's First Holographic Mouse
If this doesn't deserve to be on every list of the coolest Kickstarter gadgets you can buy right now on Amazon, we don't know what does! This is a real-life holographic mouse — much like what you'd expect to see in a cyberpunk movie.
Since ODiN requires no physical sensing component, it's an ideal addition to virtual keyboards or for people who are sensitive to touch. It also looks incredibly cool, which definitely added bonus point to its overall rating.
The Cloop Magnetic Cable Keeper
Cables are just a part of modern living — especially if you have a bunch of computers, a lot of lighting equipment, or similar gear throughout your home. Keeping your home or workspace clutter-free can be hard, and sometimes, even keeping your headphones untangled can turn into a mess.
Enter Cloop, one of the coolest Kickstarter gadgets you can buy right now on Amazon.
Cloop allows you to keep cables in easy to manage pipelines using a magnetic clasp that keeps them together. The end result is a lot less clutter, and a lot more peace of mind.
The Sugr Cube Minimalist Speaker
Speakers are naturally cool, especially when they instantly link up to Spotify and stream your favorite playlist in a pinch. However, the Sugr Cube's sleek design and cool "tap or tilt" method of use makes it a bit different — and one of the coolest Kickstarter gadgets you can buy right now on Amazon.
It's just enough retro, and just enough futurism to make a classy addition to any home. Best of all, this is one of the most flexible smart speaker out there. As long as you have a music-playing app on your phone, your Sugr Cube can let you rock on in style!
The Digital Art Display
Though electronic frames are not new, the Digital Art Display's take on them is very refreshing — to say the least. This slim, lightweight art frame downloads artwork from the world's top artists directly to the frame, and also allows you to change what you see via an app.
This unique Kickstarter startup also has a cool monthly art club featuring the best artists in the world for an additional fee. For art aficionados and critics alike, this is one of the coolest Kickstarter gadgets you can buy right now on Amazon — and one of the most interesting ways to find new artists to follow!
The AICO Smart Egg
A smart egg, you ask? It sounds ridiculous until you hear that this egg can unify and sync up every single remote in your home — and make everything accessible via its own app. That alone makes the AICO Smart Egg one of the most powerful smart home devices out there, but it does so much more than that.
The Smart Egg also monitors your home temperature, makes it possible to schedule out commands, and even can let you change your home's commands without "waking up" your phone.
The Kano Computer Kit with Screen
Without a doubt, the Kano Computer Kit is one of the coolest Kickstarter gadgets you can buy right now on Amazon — at least, if you are a kid, or have a kid. This entire kit was designed to get kids interested in computing, and teaches them how to use Raspberry Pis to make their own computer.
This toy-turned-kit gives kids a good look into the world of STEM, allows them to learn real-life coding skills, and also is just plain fun. It's also teacher-approved, and a great way to encourage girls to learn to program.
The Pico Pro Craft Brewing Appliance
Homebrewing has definitely picked up as one of the most popular hobbies of the decade, and PicoBrew is one Kickstarter startup that has made it easy for everyone to get in on the action. Truthfully, they've made some of the coolest Kickstarter gadgets you can buy right now on Amazon — at least, in the world of brewing.
Their new Pico Pro Craft Brewing Appliance takes it to a new level by giving you great, customizable beer with the push of a button. All you need to make a five-liter batch of craft beer is a PicoPak or your own custom recipe.
If you're new to brewing, don't worry. The machine does the hard work for you, and when you're done brewing, it's designed to be easily machine washable.
The JamStik Guitar for your iPad
The iPad has made learning a lot of things fairly easy, and now, you can use this slick piece of tech to learn how to play the guitar. The JamStik Guitar turns your iPad into a legit musical instrument, can teach you how to play guitar using its handy app, and is surprisingly backpack-friendly.
For people who love the feel of real frets, real strings, and real music, the JamStik is one of the coolest Kickstarter gadgets you can buy on Amazon right now — and may also be one of the coolest things ever invented.