01 is powered by Vocal creators. You support
Jenn Melon
by reading, sharing and tipping stories...
more
01 is powered by Vocal.
Vocal is a platform that provides storytelling tools and engaged communities for writers, musicians, filmmakers, podcasters, and other creators to get discovered and fund their creativity.
How does Vocal work?
Creators share their stories on Vocal's communities. In return, creators earn money when they are tipped and when their stories are read.
How do I join Vocal?
Vocal welcomes creators of all shapes and sizes. Join for free and start creating.
To learn more about Vocal, visit our resources.
Show less
5 New Emojis for People with Disabilities
Do you agree these new emojis are necessary or long overdue?
Everyone knows how wildly popular Apple emojis are. Products such as pillows, clothing, and home decor are making millions of dollars selling items with Apple emojis projected on it. Not too long ago, Apple released some new and obviously popular emojis. Teenagers and adults are absolutely obsessed with them. Recently on Twitter, I came across a post announcing some emojis that are in the process of being released with the next Apple update. There are going to be over 200 new emojis, including interracial couples and families. But people had some pretty interesting views with these five emojis made for people with disabilities specifically.

1. Hearing Aid Emoji
This emoji was made for people who have disabilities with hearing problems. Now, there is already an ear emoji, but this emoji introduces a hearing aid Apple assumes users would really enjoy using within their texts. The Children's Hearing Institute said on Twitter, "Are you as excited about the new #hearingaid emoji as we are?!" Which, you have to admit, is pretty sweet and thoughtful for Apple to release. Although some people do have rather uninterested emotions towards this new emoji, it's wonderful that some users will be able to enjoy using it, especially if it came with skin tones, not just a yellow example. 
2. Deaf/Sign Language Emoji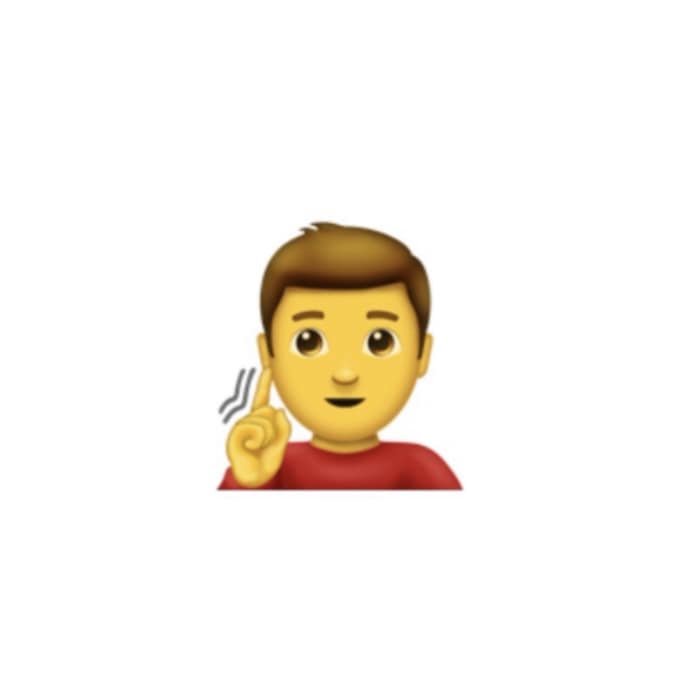 In addition to emojis involving hearing, there is a new emoji coming which introduces a person a man holding his finger to his cheek with sound waves coming from his ear. This emoji indicates a man who is a deaf or is using sign language to communicate. Mostly all of the social media is implying and assuming that it is, in fact, an emoji for those who are deaf. Although some people would argue its unneeded and repetitive to the hearing aid emoji, Many people would greatly disagree. This emoji is an excellent idea and users would love to have it featured in the next Apple update, also with a choice of skin tones and preferably a gender selection. 

3. Blind Emoji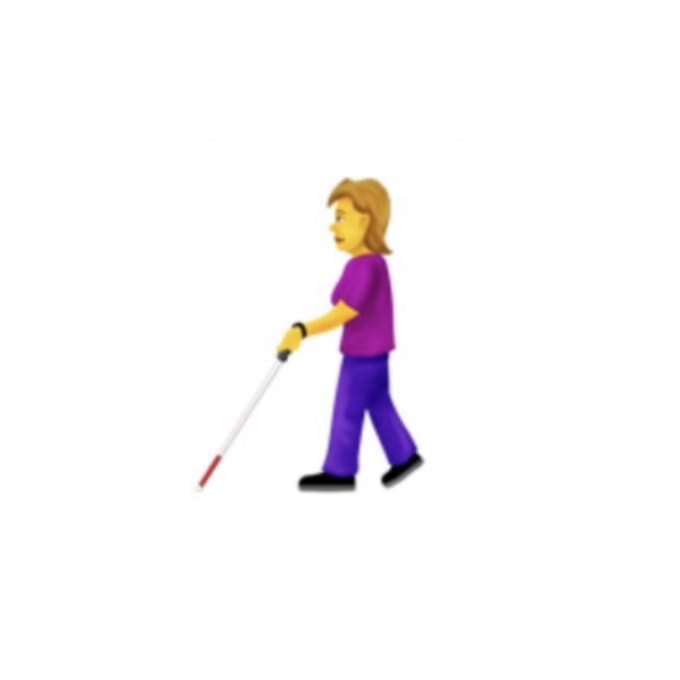 This emoji features a woman with a walking stick who users can infer that she is blind and uses it for assistance. Many people do in fact love that Apple is seriously considering this emoji. Though users on social media do think it should be more detailed, some even said to maybe add sunglasses onto the emoji. But overall hopefully, Apple provides a selection of skin tones and gender choices. 

4. Guide Dog
This emoji, which represents a guide dog, was made for those who have disabilities with seeing or need guidance. Apple users are very excited about this emoji. There haven't been many negative opinions about this emoji yet, but some once again argue that it's unnecessary and repetitive. But many users completely disagree; it's an excellent emoji that deserves representation. 

5. Wheelchair Emoji
This emoji is long overdue. The wheelchair emoji was expected with the last update, but we never actually got it, or have gotten to see an example of it. This has been the least controversial emoji that's been talked about. Overall, almost all Apple users are very okay with this emoji and some appreciate it greatly. It's meant for those who are disabled or handicapped. This emoji also always has access to other skin tones, which we are familiar with, as one of the previous updates introduced changing skin tones in emojis.
If you were interested in viewing the other emojis in the process for the next update, I included a picture guide below. If you enjoyed this reading, and need to get into contact with me, all information is in my Vocal profile. Enjoy using the new emojis when released!